Defregger beer mugs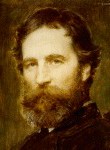 The pitchers show motifs known paintings of the painter Franz von Defregger.
Franz von Defregger influenced the painting of the second half of the 19th century as one of the main exponents of the Munich school. Born on 30 April 1835 on the Ederhof to Stronach, in the municipality of Dölsach in Tyrol, a remarkable drawing talent, less an interest to continue the rural Court showed early.
From 1878 to 1910 was Defregger Professor at the Munich Academy. 1983 King Ludwig II. awarded personal nobility title (order of the Bavarian Crown). From now on, Franz Defregger "Franz von Defregger" could call themselves. His works with evocative scenes from the everyday life of the Tyrolean peasants and local history, as well as his expressive portrait paintings made him especially in the last two decades of the 19th century a very successful artist.
Some reasons of this works can be found in excellent quality (detail drawn up, implemented with up to 14 colours of porcelain in the surface pressure) on porcelain jugs and the porcelain inlay of glass jugs.